Thursday July 9th, 2020
In 1961 the architects and brothers Achille and Pier Giacomo designed the Splügen Bräu lamp for the Flos brand. It is a pendant design made of aluminium with a glossy white finish that gives it a dazzling personality.
Tuesday June 23rd, 2020
Based on minimalist shapes, JOIN plays with the idea that the lamp itself has been 'trapped' inside the cylindrical glass base and only lets out the cable as if it were a thread. It is designed to light up bedrooms and create comfortable environments and can be found in two different sizes.
Wednesday June 17th, 2020
Now more than ever we need objects to be adapted to the space they are going to occupy and used for a specific purpose, as well as for decoration. Perhaps it was with this objective in mind that the French designer Le Corbusier designed the wall lamp.
Wednesday June 3rd, 2020
Arturo Alvarez took inspiration from the sea bed to design the MYTILUS collection, whose shape is reminiscent of strong, living waves. These hanging lamps, are made of stainless steel and painted white.
Wednesday May 20th, 2020
The renowned designer Miguel Milá created another classic lamp for Santa & Cole, the FAD tabletop light. Originally conceived for the offices of the Fomento de las Artes y el Diseño (hence its name) it incorporates "the cross intersection of the legs".
Wednesday May 6th, 2020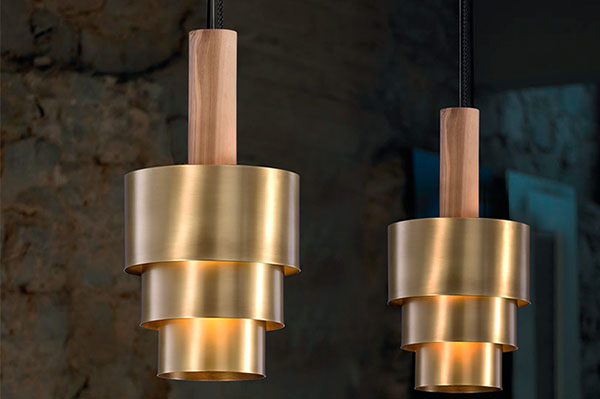 García Cumini has created a collection of hanging lamps for the Spanish brand Fambuena, with brass as the protagonist. It's called 'Reflections', a design that combines several brass pieces with a natural ash wood cylinder.
¡Quédate!
Todas nuestras novedades y consejos aquí
---
SUSCRÍBETE
Stay with us
All our news and advice
in just one click
---
SUBSCRIBE